Resources

The AALAS Foundation funds the development and production of outreach resources with the help of many individuals, corporations, and AALAS branches. As you look through this section, you will find programs and materials that promote public awareness of the benefits of biomedical research and enhance the responsible use of laboratory animals.
Whether you are a member of the public seeking clear, factual information about the responsible use of animals in biomedical research, or an AALAS member planning to present a public outreach program, you will find useful resources for different age groups and audiences. Some materials can be printed from your computer; the other materials may be ordered online through the AALAS Bookstore.
Kids, Teachers, and Parents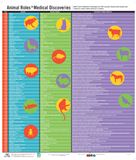 Kids4Research
Veterinarians Speaking for Research
Hear the personal stories of four veterinarians, their love for animals, their commitment to animal welfare and their passion for the roles they play in helping develop new and improved treatment for humans and animals via animal research. 
Pet Stories
Hear how Jake, Toby, and Valentine, three pets with different illnesses, have benefited from of animal research. Video courtesy of Americans for Medical Progress.
Animal Research Facility Tour
Take a guided tour though the Cedars-Sinai Medical Center's Department of Comparative Medicine with veterinarian John D. Young. Video courtesy of Americans for Medical Progress.
School Resources Library

Free online courses aimed at middle school and high school students. Includes tests to evaluate student performance.
Working with Animals Courses
Learning about Frogs: Introduction
Learning about Frogs: Advanced
Caring for Animals in the Classroom
Exploring Laboratory Animal Science Courses
Introduction to Laboratory Animal Science
Careers for Laboratory Animal Veterinarians
Careers for Laboratory Animal Technicians
Program Funding

The AREA Program is a relatively low-cost event. Most branch AREA Program expenditures are limited to lunch for program participants, printing costs, and meeting room expenses. 

Some branches chose to recruit sponsors to cover these expenses. Others go the extra mile and reimburse schools for transportation expenses related to the event.
Pfizer Branch AREA Program Fund 
Pfizer has established a Branch AREA Program Fund. A limited number of grants are available to AALAS Branches interested in conducting the AREA program.  

The AALAS Foundation staff is available to help you plan your AREA Program. Please contact foundation@aalas.org if you would like help planning your AREA Program.
Speaking Honestly: Animal Research Education
Speaking Honestly – Animal Research Education (SHARE) is a program designed to guide educators in leading a discussion-based classroom activity on the different views on the use of animals in research.
Created by Scott Dobrin & Elizabeth Burnett as part of the Americans for Medical Progress Michael D. Hayre Fellowship in Public Outreach, SHARE allows students to develop their own opinions based on factual information and peer-to-peer discussion.
Laboratory Animal Science Professionals
Learn how to conduct successful public outreach programs in your community.
How You Can Help
Order Free Materials